Tarifa is a bridge between Europe and Africa and divides the Mediterranean from the Atlantic. The city occupies a strategic place in a legendary zone, "The Pillars of Hercules". Once thought to be the end of the world by the sailors of antiquity. That's the reason why it was inhabited from prehistoric times to this day, by Phoenicians, Romans, Muslims and Christians, upon this rocky peninsula, the most southern point of Europe.
Arab writers speak about an early incursion in the year 710, lead by a Berber called Tarif. This should be the origin of the name of the city. But it could also be a derivation of tarf ("point" or "extreme", in Arabic). The castle was built in 960, by the Omeyyad Caliph Abd al-Rahman III, giving rise to the defensive enclosure that we see today, one of the best preserved in Spain.
The importance of Tarifa increased over time because it was one of the most important ports through the Strait of Gibraltar under the empires of the Maghreb (Almoravid, Almohad and Marinid dynasties), which marked the politics of al-Andalus from the end of the XI century onwards.
Just a couple of years after the Christians conquest in 1292 by King Sancho IV the Brave, an event took place that gave the castle of Tarifa its name and fame: the defense by the castle's governor, Alonso Pérez de Guzmán el Bueno (the Good, in the sense of righteous) who chose to sacrifice his own son, instead of surrendering the stronghold that the king had entrusted to him.
Each and every one of the above mentioned historical stages have left their mark on the town and on its Castle, which today show what has resulted from the addition of defensive structures (gates, towers, barriers), as well as from its palatial constructions, accumulated since the XV century up to the times of I Marquis of Tarifa in the XVI century.
The castle preserved its military function for a millenium. In 1989 it was placed in civil hands, beginning with the restoration and archeological work that has made it known to us.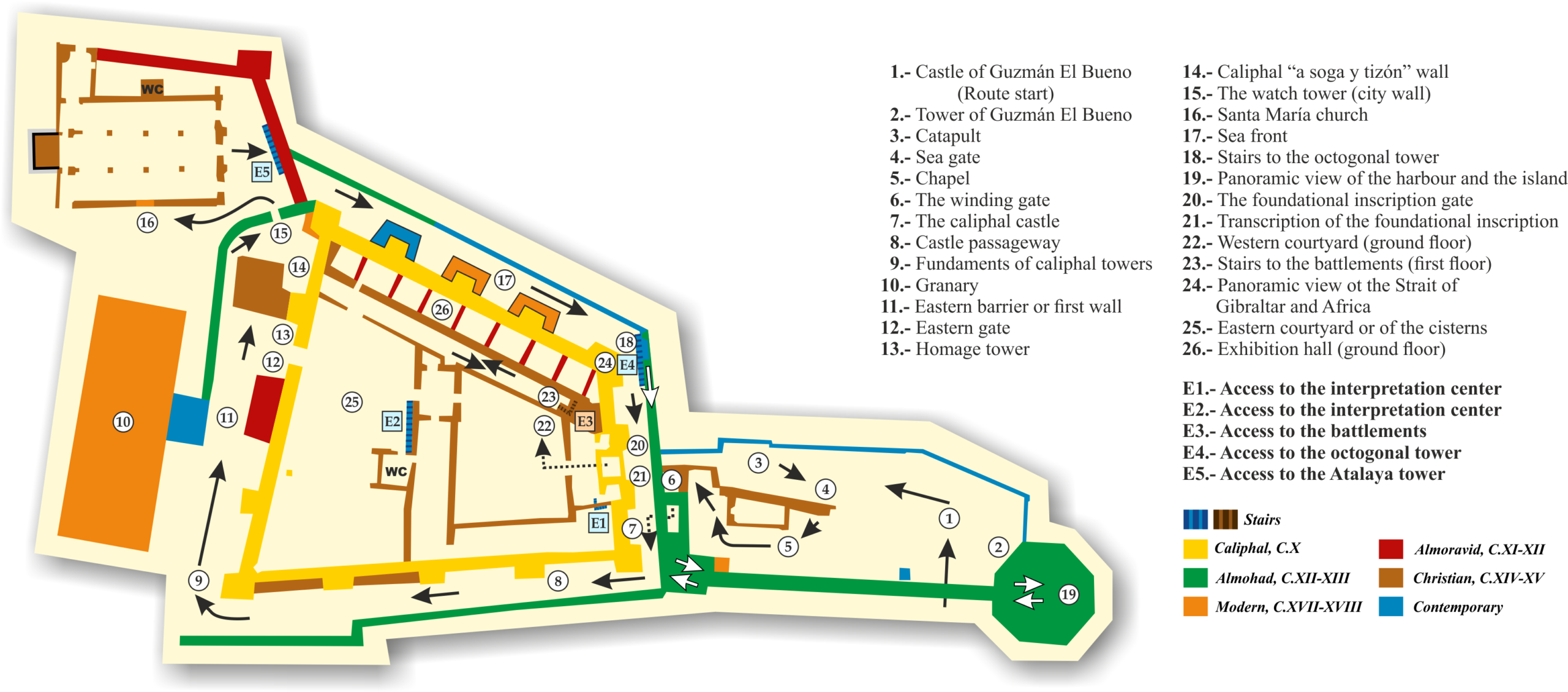 Text and plan: Alejandro Pérez Malumbres-Landa